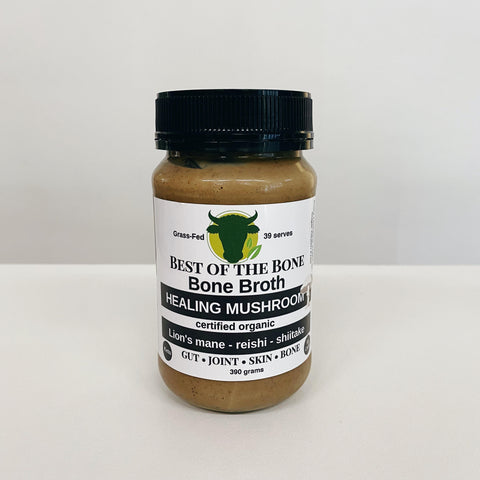 Best of the Bone
Best of the Bone Healing Mushroom 375g
Grass-fed Best of the Bone Healing Mushroom bone broth concentrate with certified organic mushrooms (lion's mane, reishi and shiitake). Bone broth has never been so medicinal! 
Legendary medicinal mushrooms have been added to the collagen-rich Best of the Bone concentrate to create a unique bone broth flavour (mushrooms, garlic, black pepper) that is a fantastic base for soups or sauces. 
A spoonful of this Healing Mushroom and hot water creates an instant protein rich, gut healing bone broth. 
No gluten, no dairy, no antibiotics. 
Ingredients: Grass-fed, slow cooked New Zealand & Australian beef leg bone, certified organic lion's mane, reishi, shiitake mushrooms, organic garlic, organic black pepper, and sea salt
Checking local availability