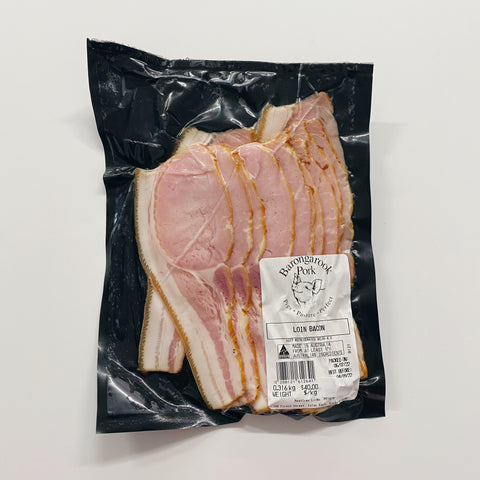 Barongarook Pork
Barongarook Loin Bacon
Approximately 335g. 
Please note: Due to this being a refrigerated product, it us unable to be shipped. It will be removed from your cart before checkout if you are choosing shipping for your order. Click + collect and local deliveries will be able to receive this product.
Ingredients: Pork 77%, water, salt, sugar, mineral salt (451,452), dextrose, hydrolysed vegetable protein, antioxidant (316), sodium nitrate (250), vegetable oil, spice extract, flavour, natural flavour, herb extract
Checking local availability
About this brand:
Find out more about Barongarook Pork
Based at Irrewara, this family business is where Xav and Laura run a large herd of rare breed Berkshire and Duroc pigs while still sticking with their original vision of allowing pigs to simply be pigs.  
They run an open paddock farm and provide cool fresh water, shelter and warm bedding. 
We get a fresh delivery every Thursday.