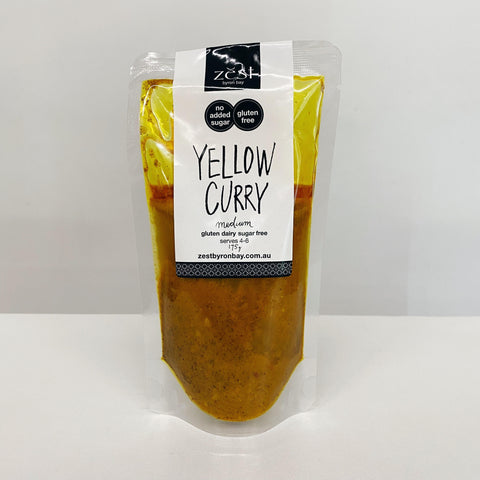 Zest
Zest Yellow Curry
Inspired by the Thai classic, the Zest yellow curry is the perfect addition to your weekly meals! 
This mild, family friendly is guaranteed to be enjoyed by all! Fresh turmeric, ginger, galangal, lemongrass, garlic, kaffir lime leaves and the best quality dry spices are balanced perfectly in the Zest kitchen. 
Enjoy with tofu or chicken and veg, over rice noodles with a sprinkling of fried onion and chopped fresh coriander. 
Gluten free, dairy free, vegan friendly, no added sugar. 
Ingredients: Filtered water, sunflower oil, vinegar, tamarind, garlic, ginger, galangal, lemongrass, kaffir lime leaf, clove, cinnamon, cumin, coriander, spices, guar gum, citric acid
Country of Origin: Made in Australia from local & imported ingredients
Checking local availability