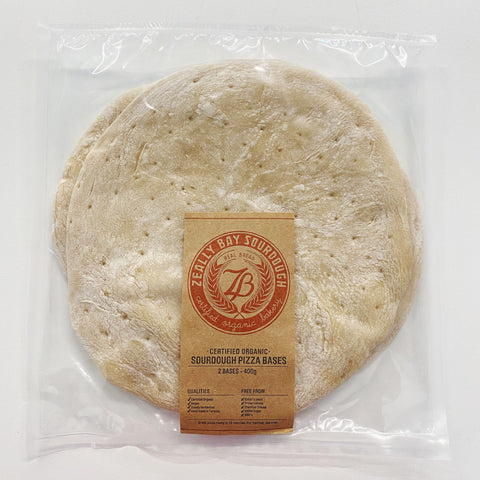 Zeally Bay Sourdough
Zeally Bay Sourdough Pizza Base 2 Pack
These are a must try! A weekly dinner for us!
Pure and simple, these bases are made from the best quality certified organic and biodynamic ingredients. Natural leavening imparts a subtle sourness that is well balanced by the addition of Grampians extra virgin olive oil, making for a Morrish base that is delightfully simple to prepare. 
To prepare, baste with good quality olive oil and a thin covering of passata, top with desired ingredients, finishing with your cheese of choice! Bake in the oven at 220 degrees for 7-10 minutes, just before the toppings begin to brown.
Ingredients: Certified organic & biodynamic flours (white wheat flour, powlett hill biodynamic stoneground sifted wheat flour, certified organic wholewheat flour), twice filtered 'grander' water, certified organic sourdough culture, certified organic EVOO (extra virgin olive oil), natural sea salt, natural vitamin C
Checking local availability