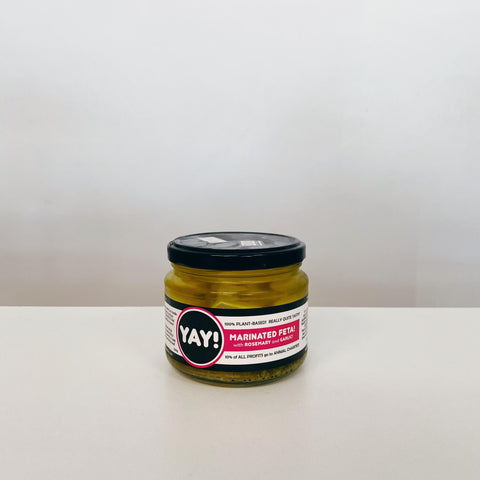 YAY Foods
YAY! Marinated Vegan Feta
Your search for vegan feta is over.  You're welcome! 
Lovingly hand-crafted from the finest ingredients, this delicious creamy nut-free feta has taken the vegan world by storm.  
With its tangy zest and melt-in-the-mouth texture, this peppy little cheese is amazing on its own, but is also total perfection spread on toast with avocado, or sprinkled into salads, or sliced onto crackers, or crumbled onto pizza, or… well, you get the idea.
Ingredients: Ingredients: Tofu, certified organic coconut oil, freshly-squeezed lemon juice, apple cider vinegar, fresh garlic, fresh rosemary, sea salt, chili flakes, black peppercorns, sunflower oil. Allergen information: contains soy
Checking local availability