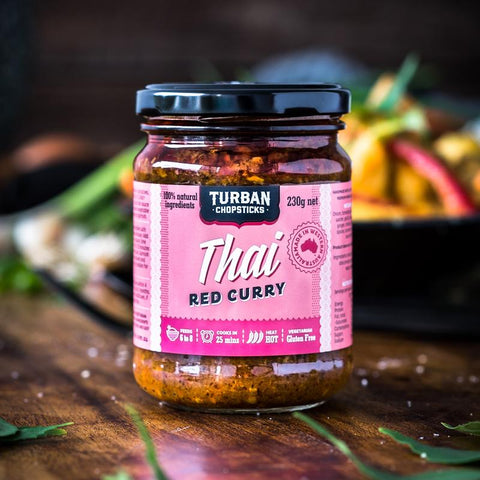 Turban Chopsticks
Turban Chopsticks Curry Paste - Thai Red Curry
Thai Red Curry is an aromatic blend of herbs and spices - garlic, shallots, galangal, coriander, ginger, kaffir lime, cumin, peppercorns and lemongrass.
Add coconut milk, favourite protein - seafood, beef, chicken, duck or tofu - and desired vegetables to transform your everyday dish into a meal out of the kitchens of Thailand.
Gluten free. 
Ingredients: Onion, tomatoes, raws sugar, vegetable oil (non-GMO), lemongrass, water, garlic, raw sugar, galangal, salt, ginger, chillies, paprika, fresh roasted spices, salt, turmeric powder black pepper, kaffir lime leaves and vinegar.
Checking local availability