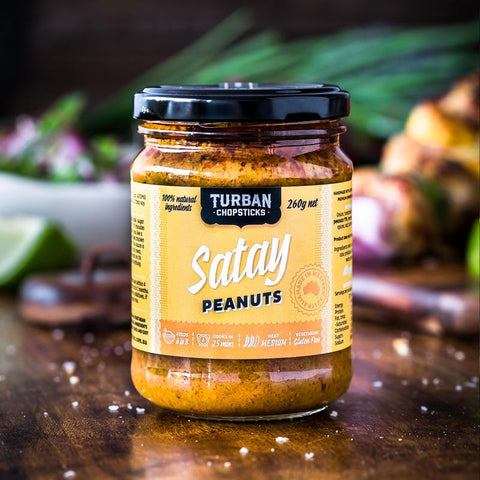 Turban Chopsticks
Turban Chopsticks Curry Paste - Satay Peanuts
The beautiful spices and herbs of galangal, garlic, lemongrass, tamarind - are mixed with quality peanuts to create an absolutely divine creamy satay sauce.
Use Satay Peanuts to add a magnificent zing to your stir fry veggies with any meat or tofu, as a dipping sauce for the famous street food, satay chicken sticks or a marinade for your BBQ, grilled or baked deliciousness.
Gluten free. 
Ingredients: Onion, tomatoes, raws sugar, vegetable oil (non-GMO), peanuts 17%, lemongrass, ginger, fresh roasted spices, salt, turmeric powder, chillies and vinegar. Product does not contain shellfish or fish sauce.
Checking local availability