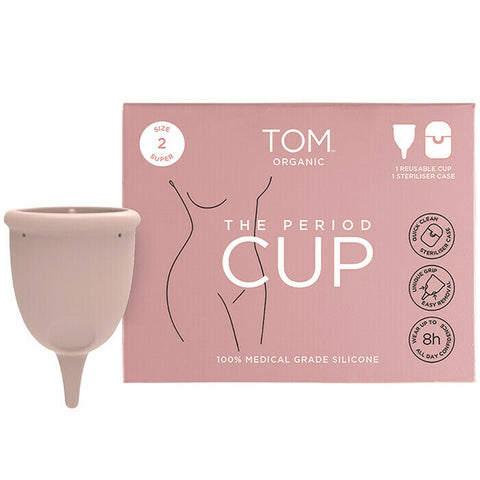 TOM Organic
TOM Organic Period Cup - Size 2
Made with 100% medical grade silicone and unique finger indents for easier insertion and removal. Each period cup comes complete with an easy-to-use microwave steriliser case for quick cleaning and an organic cotton pouch for easy storage.
Size 2 - This one is best if you are over 30, or if you have given birth (note: it's not only the measure of how you gave birth, the pressure of carrying a baby to term and the hormones can weaken your pelvic floor, regardless of how your baby was delivered). A heavier flow is best suited to a Size 2.
Because the Size 2 cup is slightly longer than Size 1, it can be better for those with a higher cervix.
The Size 2 TOM Organic menstrual cup holds an equivalent of 3 Regular or 2 Super Tampons.
The diameter of the Size 2 cup is 45.8mm and the overall height including the stem is 70mm (50mm excluding stem). It holds 30ml.
Checking local availability