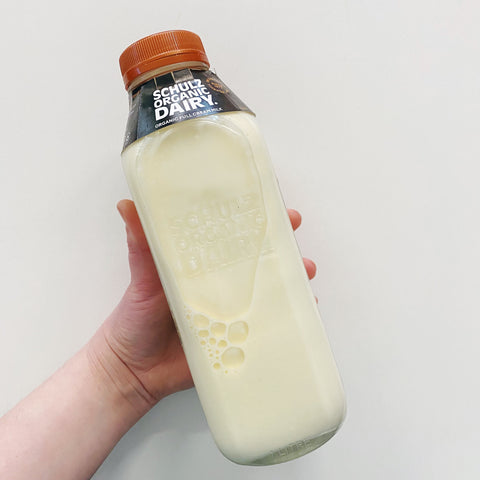 Shulz Organic Dairy
Schulz Organic Dairy Glass Milk 1L
This organic full cream milk from Schulz is natural and pure, with a rich layer of cream on top due to non-homogenisation. 

The cream content in the milk changes with the seasons, cow lactation, and what the cows graze on. At Schulz Organic Dairy, they raise both Friesians and Jerseys, which produce a milk rich in flavour, they have worked hard to create a just-right balance of beautiful texture and mouthfeel. Adopting the lowest legal pasteurising temperature and time also retains the integrity of the milk's natural flavour. 
Note: Price includes $2 deposit for glass bottle.
Please place in your order comments if you will be returning any empty bottles (if you are collecting from store) or if you will be leaving them out for us to collect (if you are getting your goods delivered), and we will give you $2 back per bottle. Please ensure returned bottles are absolutely spotless and clean, and are without their cardboard sleeve and lid. 
Ingredients: Non-homogenised certified organic cow's milk
Checking local availability