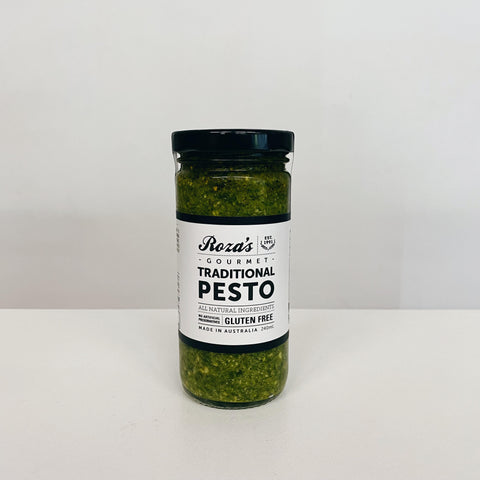 Roza's Gourmet
Roza's Gourmet Traditional Pesto
Made with Australian grown basil this sauce is a pesto lover's dream! Of course with added walnuts, garlic and parmesan cheese for just the right balance of flavour. 
You can use by mixing a tablespoon per person through pasta, spreading on a focaccia bread or pizza base, enjoying it as a dip, stirring through vegetables, or mixing with whatever you can find to make your very own sauce for steak, fish and chicken. 
Gluten free, no added preservatives. 
Ingredients: Canola oil (Non-GM), fresh basil (31%), garlic, walnuts, parmesan cheese (5%) (milk, salt, starter culture, non animal rennet), lemon juice, salt, white vinegar
Checking local availability