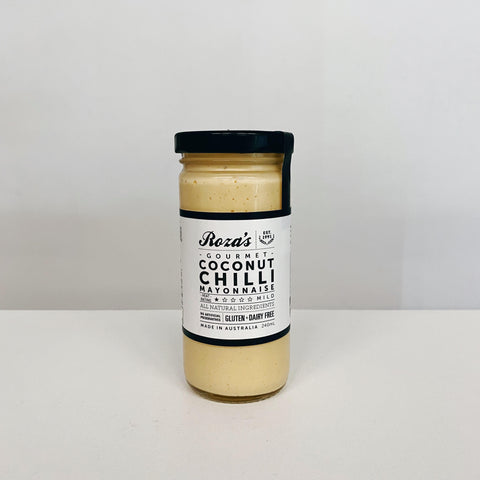 Roza's Gourmet
Roza's Gourmet Coconut Chilli Mayonnaise
This sauce is loaded up with sweet honey, mixed with a touch of red cayenne chilli and desiccated coconut. 
It is mild on heat but strong on flavour, this mayo is so rich and tasty you will be hooked! Great for those who like to add a kick to salads, flavour to sandwiches and burgers, or sauce to meats, also the coconut makes it ideal for seafood. 
No artificial preservatives, gluten free, dairy free. 
Ingredients: Canola oil (non-GM), water, eggs, honey, chilli sauce (4%), coconut (3%), mustard, white vinegar, salt, lemon juice, curry powder
Checking local availability