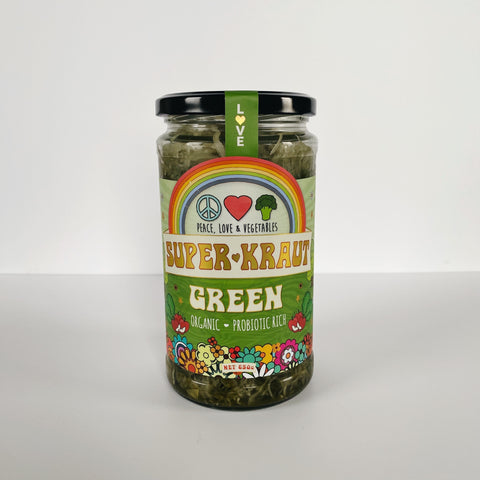 Peace, Love & Vegetables
Peace, Love & Vegetables Green Superkraut 650g
Never before has eating your greens been so pleasurable than with this mouthwatering mix of cabbage, apple and kale!
This dynamite jar of goodness also delivers spirulina, broken cell chlorella and Gotu Kota. Organic, probiotic rich. 
Ingredients: Cabbage*, Filtered Water, Apple*, Kale*, Spirulina, Broken Cell Wall Chlorella*, Gotu Kola*, Australian sun-dried sea salt, PLV Super Strain Culture Starter (Lactobacillus Acidophilus DDS-1, Lactobacillus  Gasseri BNR17, Lactobacillus Reuteri LRC, Lactobacillus Plantarum, Lactobacillus Rhamnosus, Lactobacillus Salivarius, Lactobacillus Paracasei, Bifidobacterium Bifidum, Bifidobacterium Longum, Bifidobacterium Lactis) (*Denotes organic)
650g glass jar. 
Checking local availability