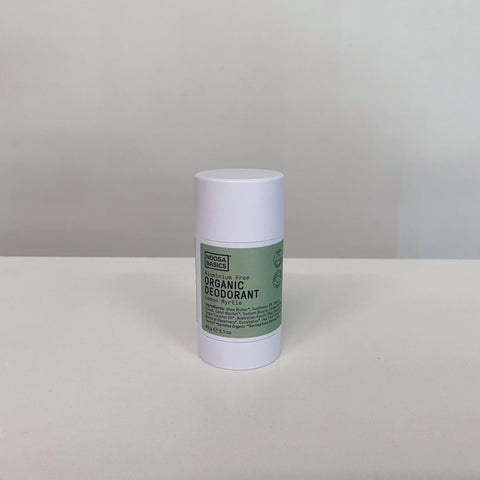 Noosa Basics
Noosa Basics Deodorant Stick Lemon Myrtle
Noosa Basics deodorant paste in a stick with the scent of Australia, lemon myrtle.  Organic tapioca and australian kaolin clay absorb moisture while allowing you to sweat and release toxins. Bicarb soda kills the bacteria that causes odour.
Shea butter and candelilla wax nourish your skin and organic coconut oil is well known for its antibacterial properties. This deodorant has the power of a paste but in an easy to apply. 

It is all-natural and free from added aluminium.
Vegan + cruelty free.
Ingredients: Shea Butter*, Sunflower Oil, Tapioca Starch, Cetyl Alcohol∞, Sodium Bicarb, Candelilla Wax, Virgin Coconut Oil*, Australian Kaolin Clay, Essential Oil Blend of Rosemary*, Eucalyptus*, Tea Tree*, Lemon Myrtle (Backhousia Citriodora*). *Certified Organic ∞Derived from Coconut Oil
Checking local availability