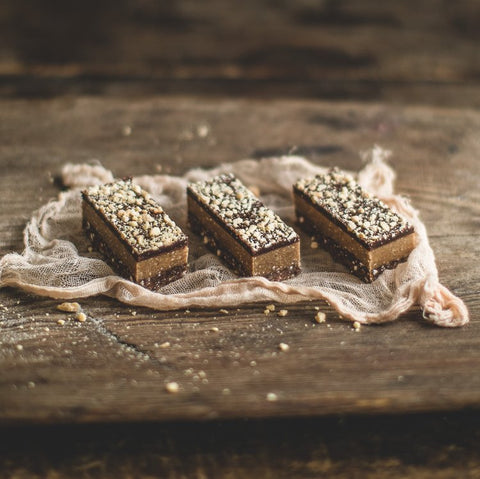 Manuko
Manuko Salted Caramel Slice
Combining house made organic peanut butter with caramel tones from organic mesquite and a dashing of himalayan crystal salt, Manuko has created a heavenly salted caramel experience! 
A slice measures 3cm x 7xm and will keep up to 2 months when stored refrigerated in an airtight container. 
Vegan, gluten free, delicious. 
Ingredients: Organic peanuts, organic brown rice malt syrup, raw organic cacao (raw cacao powder, raw cacao butter), organic dates, raw organic hazelnuts, raw (extra virgin) organic coconut oil, organic coconut flour, organic activated buckwheat, organic mesquite, raw organic cashews, organic vanilla bean paste, Himalayan crystal salt, organic carob, organic ceylon cinnamon
Checking local availability