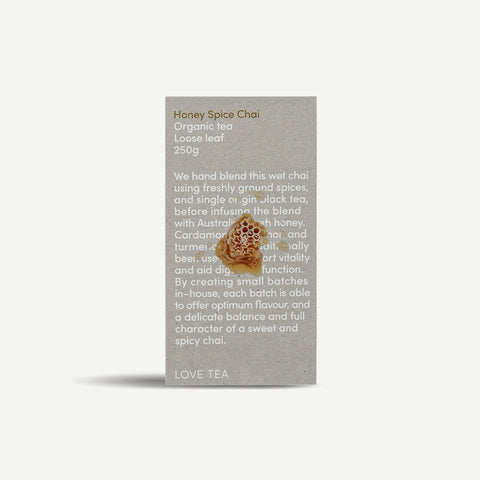 Love Tea
Love Tea Honey Spice Chai 250g
Love Tea hand blends this wet chai using freshly ground spices, and single origin black tea, before infusing the blend with Australian bush honey. Cardamom, cinnamon and turmeric have traditionally been used to support vitality and aid digestive function.
By creating small batches in-house, each batch is able to offer optimum flavour, and a delicate balance and full character of a sweet and spicy chai.
Ingredients: Certified Organic Ingredients - Australian bush honey, black tea*, cinnamon, gingers*, cardamom*, turmeric, star anise*, cloves*, black pepper*, white pepper* *Fair trade ingredients. Honey is not organic.
Checking local availability