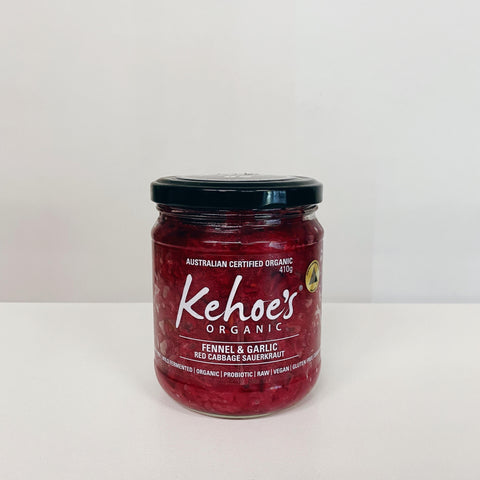 Kehoe's Kitchen
Kehoe's Kitchen Organic Fennel & Garlic Red Cabbage Sauerkraut 410g
This delicious fennel + garlic sauerkraut is fresh, crunchy, raw and probiotic. 
Red cabbage is used with fresh garlic, apple, fennel seeds and white pepper to create this extremely tasty version of Ruben kraut. Red cabbage teamed with fermented garlic results in a very nutrient dense, immune boosting, delicious sauerkraut. 
Serve with any meal as a condiment, add to salads or nourish bowls, add to sushi. 
Organic, raw, vegan, gluten free. 
Ingredients: Organic red cabbage, organic apple, natural sea salt, organic garlic, organic fennel seeds & organic white pepper
Checking local availability