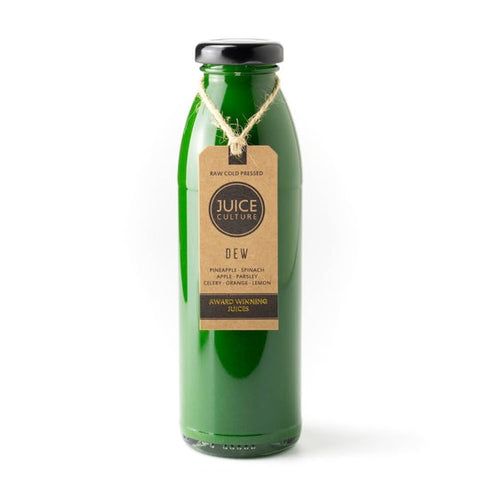 Juice Culture
Juice Culture - Dew
Chlorophyll rich leafy greens & citrus to build immunity & strengthen bones.
Chlorophyll can improve quality of red blood cells which in turn improves the efficiency of oxygen transported to our cells, as a result, giving you more energy.  Pineapple contains bromelain which causes the body to produce substances that fight pain and swelling (inflammation). Bromelain also contains chemicals that interfere with the growth of tumor cells and slows blood clotting.

Juice Culture is an Australian Award-Winning Cold Pressed Juice company offering a wellness programme advocated by coaches and educators in nutritional fitness. 
350ml glass bottle. 
Use by date: 29.9.23 We get fresh deliveries every Wednesday. 
Ingredients: Baby spinach, celery, parsley, pineapple, apples, oranges, lemon
Checking local availability