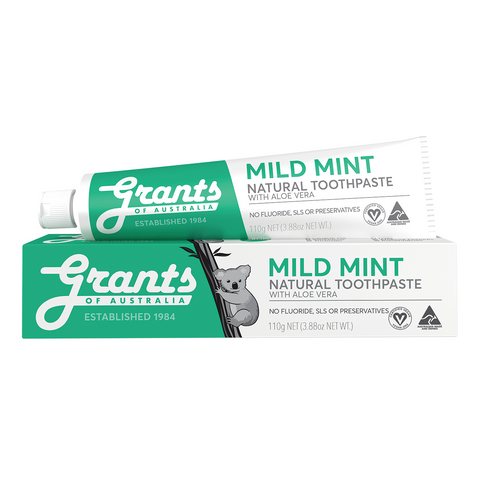 Grants of Australia
Grants Toothpaste Mild Mint
No fluoride, SLS, or preservatives. Not tested on animals, certified vegan.
The flavour may be mild, but the benefits are extraordinary. Packed full of healing ingredients like Aloe Vera, which soothes teeth and gums, and natural herbs for gentle oral care and fresh breath, it's ideal for those with sensitive gums or mouth ulcers.
Packaged in a recyclable cardboard box with vegetable ink, which can be recycled in your curbside recycling, and the plastic tube can be recycled with us in our Terracycle boxes when empty!
Ingredients: Calcium Carbonate, Water (aqua), Aloe Barbadensis Leaf Juice (certified organic), Glycerin (Vegetable), Xylitol, Silica, Sodium Lauroyl Sarcosinate (from coconut), Cellulose Gum, Dicalcium Phosphate Dihydrate, Flavour/Aroma (Natural Herbal Extract), Stevioside (Stevia), Magnesium Hydroxide, Potassium Chloride. *Mint Oil, Eucalyptus Oil, Cardamon, Anise, Caraway, Coriander, Rosemary and Clary Sage, Limonene & Linalool
Checking local availability