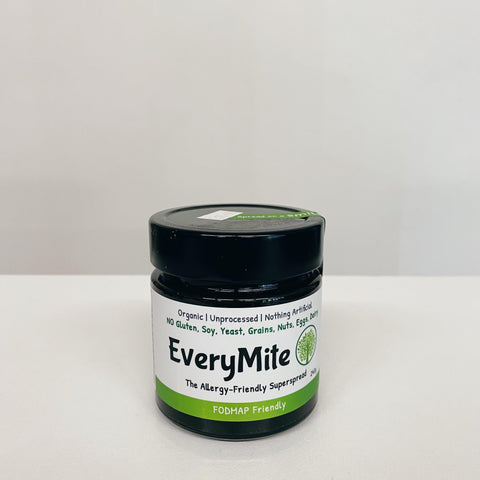 EveryMite
EveryMite - FODMAP Friendly
EveryMite FODMAP Friendly is everything you want in a spread and more. It's a tummy-loving alternative to much-loved vegemite suitable for those who have strict dietary restrictions.
With no additives, this organic blend provides naturally occurring minerals, vitamins, amino acids, protein and fibre while the beneficial enzymes for friendly gut bacteria improve vitamin and mineral absorption.
It's free from nuts, grain, gluten, dairy, soy, yeast, added sugar and filler ingredients.
Ingredients: Certified Organic Black Sesame Seeds, Certified Organic Coconut Amino Sauce (Fermented Coconut Nectar and Sun dried Mineral Rich Sea Salt), Certified Organic Himalayan Rock Salt, Certified Organic Apple Cider Vinegar (with the Mother). Please note that there is NO chilli, garlic and onion in this product
Checking local availability