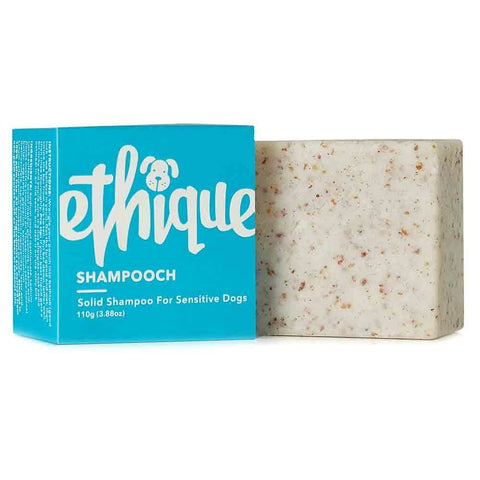 Ethique
Ethique Shampooch For Sensitive Dogs
A no-fuss vegan shampoo bar for your pooch (or your horse), to make bathtime's a breeze.
Designed for the most delicate doggy skin, Shampooch is enriched with flaxseed and coconut oils for a super shiny coat. It's scent-free and very gentle, with the perfect pH to keep your pooch's skin comfy, while getting fur all floofy and clean.
Each bar weighs 110g and gives the same amount of washes equivalent to 3 bottles of liquid shampoo (depending on the length of hair).
Plastic free, palm oil free, cruelty free and vegan. 
Ingredients: Sodium Cocoyl Isethionate, Sodium Coco-Sulfate, Cocoyl Methyl Glucamide, Stearic Acid, Cocos Nucifera (Coconut) Oil, Theobroma Cacao (Cocoa) Butter, Vegetable Glycerine, Behentrimonium Methosulfate, Caprylic/ Capric Triglyceride, Lactic Acid, Linum Usitatissimum (Flaxseed) Seed Powder
Checking local availability