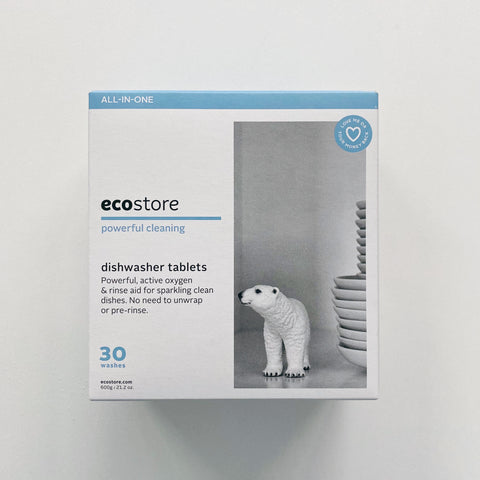 Ecostore
Ecostore Dishwasher Tablets (30 Tablets)
This high performance all-in-one formula has built-in rinse aid, for streak-free glassware. It's also oxygen boosted, to remove stubborn food like eggs or porridge. Each tablet is wrapped in a PVA biodegradable, dissolvable wrapper that dissolves in your machine, so there's no need to touch it.
Septic tank suitable, powerful stain removal, fragrance free, soap free. 
Cruelty free, vegan.
Ingredients: Sodium Citrate, Sodium Carbonate, Sodium Carbonate Peroxide, TAED, Polyaspartate, Sodium Bicarbonate, Fatty Alcohol Alkoxylate, Sorbitol, Modified Fatty Alcohol Polyglycolether, Sodium Silicate, Subtilisin, Amylase, Trisodium Dicarboxymethyl Alaninate, Brassica Napus Seed Oil, Glyceri, Tetrasodium Iminodisuccinate
Checking local availability