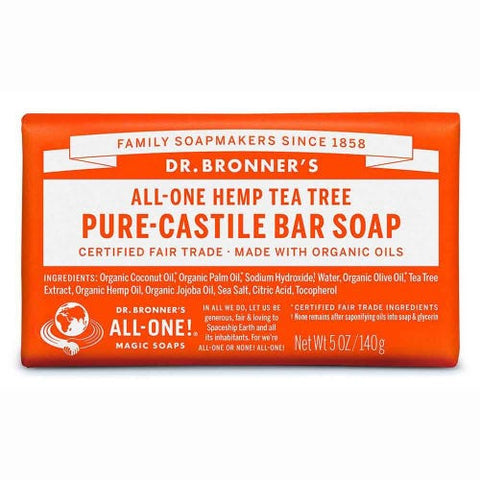 Dr. Bronner's
Dr Bronner's Bar Soap - Tea Tree
Woody + medicinal, Dr Bronner's tea tree bar soap contains pure tea tree oil. Making it great for acne prone skin and dandruff!
Dr Bronner's bar soap is made with certified fair trade ingredients and organic hemp oil for a soft, smooth lather that won't dry your skin. 100% biodegradable in a 100% post-consumer recycled wrapper.
Biodegradable, vegan gentle and versatile. Great for washing your body, hands, face and hair! 

Ingredients: Organic Coconut Oil*, Organic Palm Oil*, Sodium Hydroxide**, Water, Organic Olive Oil*, Tea Tree Extract, Organic Hemp Oil, Organic Jojoba Oil, Sea Salt, Citric Acid, Tocopherol *CERTIFIED FAIR TRADE INGREDIENTS **None remains after saponifying oils into soap & glycerin.
Checking local availability