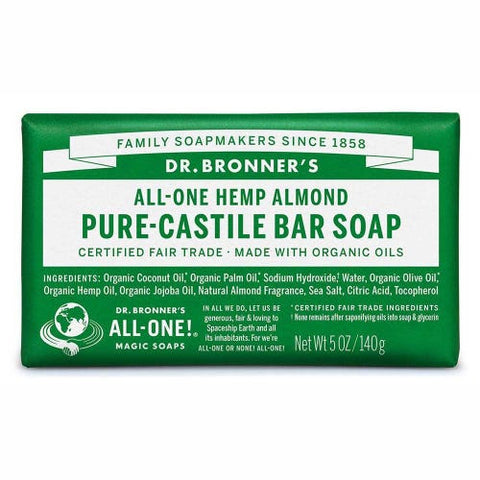 Dr. Bronner's
Dr Bronner's Bar Soap - Almond
Warm, comforting and slightly sweet, like marzipan or amaretto!
Dr Bronner's pure Castile bar soap is made with certified fair trade ingredients and organic hemp oil for a soft, smooth lather than won't dry your skin. 100% biodegradable in a 100% post-consumer recycled paper.
Biodegradable, vegan gentle and versatile. Great for washing your body, hands, face and hair! 
Ingredients: Organic Coconut Oil*, Organic Palm Oil*, Sodium Hydroxide**, Water, Organic Olive Oil*, Organic Hemp Oil, Organic Jojoba Oil, Natural Almond Fragrance, Sea Salt, Citric Acid, Tocopherol *CERTIFIED FAIR TRADE INGREDIENTS **None remains after saponifying oils into soap & glycerin
Checking local availability