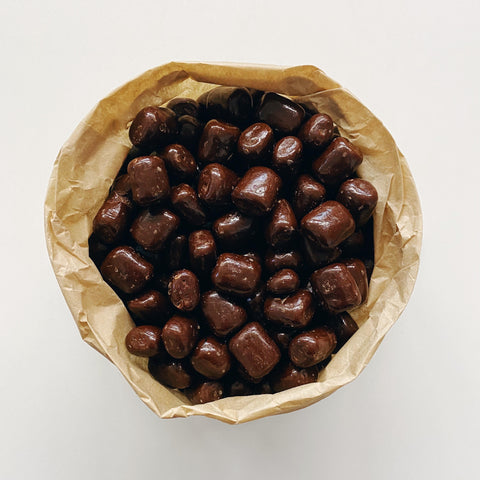 Green Grove
Dark Chocolate Licorice Organic
A real crowd favourite. The combination of dark chocolate and traditional licorice is something dreams are made of.
They are Australian made from Green Grove with no artificial colours, flavours or preservatives. Superb quality!
Contains gluten, dairy free. 
Note: The glazing agent contains honey and is therefore not suitable for vegans. 
Ingredients: *Licorice (55%) (*Molasses, *Wheat Flour, *Sugar, *Invert Syrup, *Licorice Root Powder, Aniseed, Natural Vegetable Colour), *Dark Chocolate (45%) (*Cocoa Mass, *Rapadura Whole Cane Sugar, *Cristallino Cane Sugar, *Cocoa Butter, *Soya Lecithin), *glazing agent *Ingredients certified organic (Note: The glazing agent contains honey and is therefore not suitable for vegans)
Country of Origin: Made in Australia from local & imported ingredients
Checking local availability