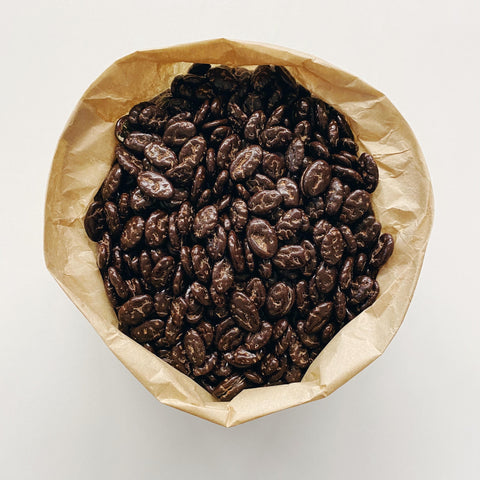 Pepo Farms
Dark Chocolate Coated Pumpkin Seeds
From our favourite Pepo Farms, these Australian grown pumpkin seeds are next level when coated with dark chocolate. (Plus, the antioxidants that come with dark chocolate are very welcome!).
The chocolate that is used is Barry Callebaut 53% Belgian dark courveture chocolate, which is an ethically produced chocolate.
They are also gluten free, dairy free and completely vegan! 
Ingredients: Pumpkin seeds (35% average), Dark Chocolate: (64% average)(sugar, cocoa mass, cocoa butter, emulsifiers (soya lecithin, 476,) flavours, cocoa solids 53%), Glaze: gum arabic, glucose, sugar, vegetable oil, starch
Country of Origin: Made in Australia with our favourite Australian grown pumpkin seeds, with imported chocolate
Checking local availability