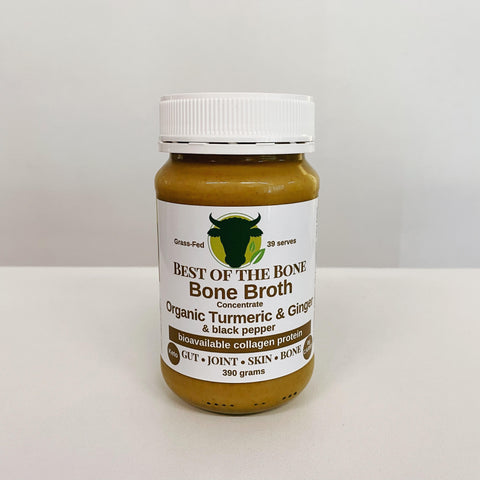 Best of the Bone
Best of the Bone Turmeric & Ginger 350g
A gut and anti-inflammatory powerhouse! 
The richest, most nutrient dense slow cooked (for 48+ hours), certified grass fed and finished certified bone broth gelatin is packed with the most absorbable collegen protein, 19 vital amino acids and 80+ minerals. 
Add a cup of warm water to a spoonful of Best of the Bone for a quick, nutrient dense broth or as a base for rich soups and amazing sauces. 
Gluten, antibiotic and dairy free.

Ingredients: Grass-fed certified Australian & NZ beef marrow bones slow-cooked for 48 hours, organic turmeric (active curcumin), organic ginger, organic black pepper, evaporated sea salt
Checking local availability