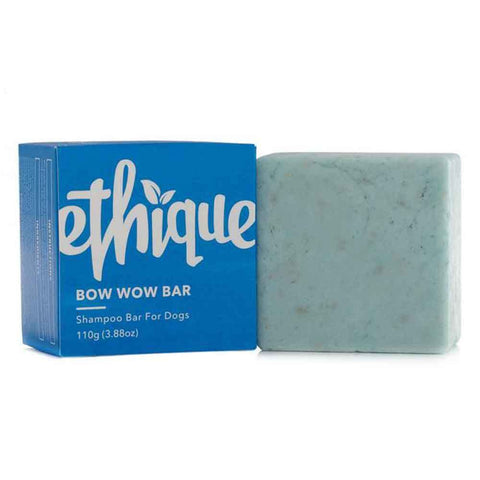 Ethique
Ethique Bow Wow Dog Shampoo Bar
Bow Wow will leave your dog sweet smelling, soft and fluffy with the combination of neem, teatree, oatmeal & coconut oil. It also helps with skin problems, fungal infections & fleas.
Lavender helps with the sensitive skinned & our unique shampoo is pH balanced for dogs to leave fur soft & shiny.
(Please note, due to the essential oil content this should not be used on your cat). 
Plastic free, soap free, equivalent to 3 bottles of liquid shampoo. 
Sustainable, palm oil free, cruelty free, vegan. 
Ingredients: Sodium cocoyl isethionate, sodium coco-sulfate, decyl glucoside, stearic acid, Theobroma cacao (cocoa) butter, Cocos nucifera (coconut) oil, cetearyl alcohol, neem oil, ground oatmeal, Lavender, teatree, manuka & peppermint essential oils, calendula petals, lactic acid
Checking local availability