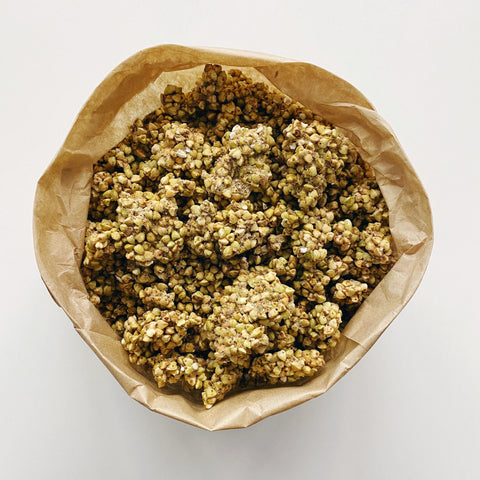 Loving Earth
Buckinis - Caramelised Clusters Organic
From our friends at Loving Earth, these caramelised buckinis are made from raw activated buckwheat and coated in a delicious selection of superfoods including maca and mesquite. Ideal for breakfast or a snack, great as a topper for desserts, ice-creams and smoothies.
In winter - add 1/2 cup Buckinis to 3/4 cup of your favourite milk and gently heat on stove top.
In summer - add your favourite milk or yoghurt and pile on the seasonal fresh fruit.
Gluten free, grain free, vegan friendly. 
1 cup - roughly 140g to 160g.

Ingredients: Activated buckwheat*, raw agave syrup*, raw mesquite powder*, cinnamon*, raw maca powder*, pink lake salt. *Certified organic ingredients
Country of Origin: Made in Australia from local & imported ingredients
Checking local availability